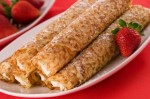 The feast of Hanukkah commemorates the miracle of the oil menorah which lasted for 8 days when there was only enough fuel to last for a day. As part of this commemoration, fried foods are served during Hanukkah. Popular fried dishes served during the holiday include latkes, doughnuts and blintzes. Cheese blintzes are favorite treats of many kids including mine so I've always served cheese blintzes during Hanukkah as part of a family tradition. Here's how to make cheese blintzes:
For the crepes, you will need one cup of flour, two thirds cups of milk and a separate cup of similar size for the water. You will also need three eggs, one fourth teaspoon of salt and butter.
Put the flour in a large bowl. Add the cup of milk and water then whisk the mixture.
Add the eggs, salt and three spoons of butter and continue whisking.
Allow the batter to rest for at least ten minutes.
Heat a flat pan and brush it with butter. Pour the batter and spread it evenly.
Using a spatula, turn the crepe over when the other side is slightly brown.
Remove the crepe and transfer it to a plate.
For the filling, you will need a pound of cream cheese, a pound of farmer's cheese, four egg yolks and one third cup of granulated sugar.
Using a food processor, mix the cream cheese and farmer's cheese then add an egg yolk one at a time.
Add the sugar and chill the mixture.
Put about a teaspoon of the cheese filling on each blintz and roll it.
Arrange the blintzes in the frying pan and fry in hot oil.
Top the blintzes with sour cream, ice cream or whipped cream.
Readers found more information by searching for:
You might also like: