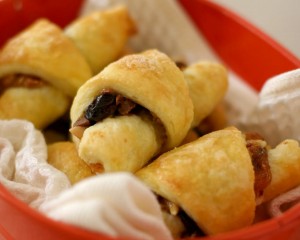 Along with latkes and sufganiot, Rugelach is a traditional dish prepared during Hanukkah. Rugelach or 'little twist' are buns originally made by Jewish people in Poland. There are numerous ways to bake a rugelach. Its dough is made up of sour cream or cream cheese. The filling can vary from jam, chocolate, raisins and nuts. This holiday treat is easy to make and is perfect for holiday celebrations like Hanukkah.
Slice the butter and cream cheese into small cubes.
Dissolve the butter and cream cheese.
Gradually add flour, eggs and vanilla. Mix using a food processor.  Add some salt.
Remove a ball of dough. Roll the mixture into a circle on a floured board.
For the filling, sprinkle some chocolates or spread jam into the dough. (You can use any filling).
Cut into pie-shaped (triangular) wedges. Roll up each piece.
Brush the buns with melted butter and sprinkle brown sugar.
Bake the buns for 25 to 30 minutes or until buns are golden brown in a preheated (180 degrees) oven.
Serve hot.
Readers found more information by searching for:
You might also like: