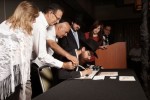 Florida governor Rick Scott declared Sunday to be "Torah Day." The proclamation honored the North Orlando Chabad community and the inauguration of the congregation's first torah dedicated by Zvi and Dawn Shamu and Paul Sebag. Scott "extended greetings and best wishes upon" Rabbi Yanky Majesky and wife Chanshy on their commitment "to bringing the joy of Judaism" to residents of Sanford, Longwood, and Lake Mary since 2010.
A crowd of approximately 200 members of the Jewish community from all backgrounds gathered at the Westin Hotel in Lake Mary to celebrate the historic moment as scribe Rabbi Chaim Pape began the year-long process of writing the community torah.
Chanshy Majesky addressed the crowd, noting the celebratory theme of the morning's ceremony, "One people. One community. One Torah." She noted, "The Rebbe explains that every Jew, every soul is a letter in the holy Torah… In 1981 the Rebbe wanted to unite Jewish children under bar and bat mitzvah. A torah was written so that every single letter was dedicated by another child. Great emphasis was placed that the child should pay one dollar from his own money—so it was truly his or her letter in the Torah." Chanshy shared that the Rebbe's messengers from all over the globe gathered "child by child, letter by letter, dollar by dollar for this special project. Jewish children from the U.S., Israel, Europe and all over the world joined together to write a torah scroll." She stated that Chabad of North Orlando would carry on the tradition of uniting the community under one torah.
Readers found more information by searching for:
You might also like: