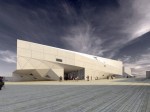 The Tel Aviv Museum of Art in the district of Tel Aviv, Israel is one of the biggest museums of the country. It houses different kinds of art works and historical artifacts that symbolize and describe the rich culture and tradition of Israel.
The Tel Aviv Museum of Art was opened in 1932, even before the state of Israel was established. The works of art does not only deal with the rich Israeli culture but numerous paintings of European artists like Monet, Renoir, Van Gogh, Matisse and Picasso are also displayed in the museum.
Different exhibitions are being organized many times a year to showcase and pave tribute to the artists of Israel. These exhibitions become a major attraction of the museum, enticing artist lovers and the public to regularly visit the place.
The museum also has a cinema called the Tel Aviv Museum Cinema. It shows a selection of highly-criticized and renowned international films for the public to enjoy.
Readers found more information by searching for:
You might also like: