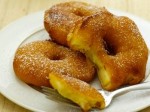 Eating foods cooked in oil is a Jewish tradition during Hanukkah. This is done to pay homage to the miracle of the lamp oil that lasted for eight days when there was only enough fuel to last for a night. Latkes are the most common food that symbolizes the holiday but there are other foods like sufganiyot (doughnuts), neyyappam, and fritters. Here's an easy to make fritter recipe that your family will surely love for Hanukkah.
For this recipe, you will need one and a half cups of all-purpose flour, half a cup of cocoa powder, half a cup of sugar, baking powder, one fourth teaspoon of kosher salt, half a cup of club soda, 9 cups of cooking oil, one egg, chopped dark chocolates, and chopped walnuts.
Mix all the dry ingredients first in a big bowl except the chopped chocolates and nuts.
Mix the egg, one cup of cooking oil, and club soda in a separate bowl. Mix the wet and dry ingredients.
Add the chocolates and nuts into the mixture.
Heat the remaining oil in a big pan. Using a spoon, drop batter into the hot oil and fry the fritters for three minutes or until the fritters are crisp.
Drain the fritters using paper towels and dust it with confectioner's sugar.
Serve the fritters while still hot.
Readers found more information by searching for:
You might also like: