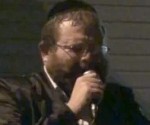 Sources Confirm to YiddishNayes that the New York Governor David Paterson has pardoned Michoel Streicher after he was sentenced for stealing $36,000 from a Washington Heights woman.
Streicher, 50, scammed the money from his victim — a fellow Orthodox Jew — by promising he would invest it in a coveted Torah scroll, which he said he would acquire through his connections in Israel.
Streicher was found guilty of grand larceny and harassment at trial and was sentenced to 1-3 years.
Read More: @ yiddishnayes.com
Readers found more information by searching for:
You might also like: