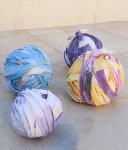 Making yarn from old sheets is a great way to up-cycle something you might otherwise toss, and it turns out that knitting and crocheting with sheets is really so satisfying. So I have to admit, I really need to be cleaning for Passover right now, but when I eyed that bag of sheets my neighbor had given me two years ago it seemed like such a good idea to make some balls from those sheets, so there you have it!
While in the past I have made yarn from flat sheets by cutting strips and then joining them, this time I finally had the chance to try out the spiral method in which one ball of sheet yarn is generated from a single flat (or fitted) sheet.
How To:
Remove any edges or elastic corners from sheets, first cutting and then tearing. This spiral method consists of mostly tearing. Start in one corner and cut a slit, roughly 1 inch or just a bit more wide. Start tearing down the length of the sheet until you are within an inch or so of the end. Then simply turn the sheet, make a small slit with your scissors one inch from the edge and start tearing down this side of the sheet until you reach one inch before the next corner. Proceed to go around and around stopping at each corner to change direction until you've used up most of the sheet.
Read More: @ creativejewishmom.com
Readers found more information by searching for:
You might also like: