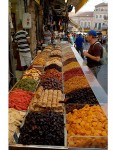 The haredim are pushing forward an initiative to establish a market that will serve as an alternative to the Machne Yehuda Market in Jerusalem. The reason – events held at Machne Yehuda include women's singing. A suitable location was found a few days ago, a 10 dunam area between Sanhedria and Mount Hotzvim.
The initiative to establish the alternative market was launched a few months ago. The haredim declared war on the market over the Balabasta Festival, an event that includes live performances between the market stalls. The haredim's main claim was that the festivals include women's singing and are a source of "immorality that harms our children's education."
The market borders on a number of haredi neighborhoods which leads to friction between the retailers and the haredi sector.
Last summer the haredim held a gathering at the home of Rabbi Zvi Steiner in the Knesset Yisrael neighborhood. Senior Jerusalem Municipality and haredi officials participated in the gathering where it was decided that should the events at the Machne Yehuda market continue, the haredi sector would find an alternative site for a market.
Read More: @ ynetnews.com
Readers found more information by searching for:
You might also like: