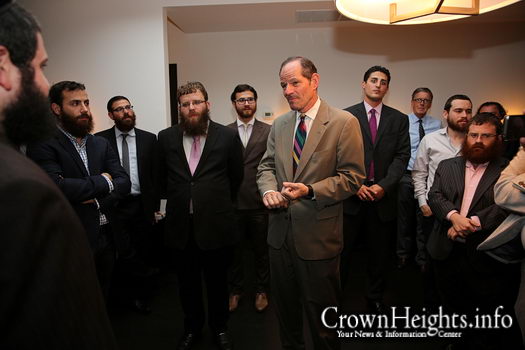 Several dozen members of the Crown Heights Jewish community gathered tonight, August 26, at the Basil Pizza & Wine Bar to meet with Democratic candidate for New York City Comptroller Eliot Spitzer.
Mr. Spitzer previously served as attorney general and governor of New York State, before a scandal forced his resignation.
He was invited to make his case before voters in the Crown Heights community by a committee headed by activists Shlomie Hecht, Mendy Margolin and Yossi Rapoport, who coordinated the event along with Rabbi Yaacov Behrman.
Mr. Spitzer arrived at the restaurant at about 6:45pm. He was introduced by Rabbi Behrman, who welcomed him on behalf of the 25 Crown Heights synagogues participating in the event.
Rabbi Behrman emphasized Mr. Spitzer's record as A.G. and governor, where he was known by the nickname 'sheriff of Wall Street," and argued that he is better qualified than his opponents to do the job of New York City comptroller.
Read More: @ crownheights.info
Readers found more information by searching for:
You might also like: