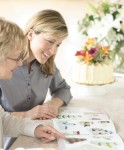 When it comes to Bar Mitzvah planning, many parents are in the dark as to how they should handle the event. All some parents have to go on is their own Bar Mitzvah years ago. They are unsure whether customs and traditions have changed over the years. Because of this, many parents have to decide whether to plan the event themselves or to hire a professional planner to take care of the details. There is no right or wrong answer when it comes to this subject. Many parents plan their child's Bar Mitzvah with no hitches, while others become overwhelmed with all the planning.
Because the first step in Bar Mitzvah planning is deciding whether you will do it alone, you have to take into consideration everything that needs to be done. The best way to make the decision is by researching Bar Mitzvahs so you will have a better understanding of everything you have to do as a parent planning the event. Not only do you have to help plan the actual ceremony with the synagogue, but you have to plan the reception that follows. Understanding all that is involved in the planning will give you a better idea of whether you can handle the planning on your own.
The worst thing that could happen is that you assume the planning will be easy and then you get too deep into it to hire a professional. This is why you should start the Bar Mitzvah planning early. It always is better to be over-prepared than under-prepared. If you know from the start that you cannot or do not want to plan the event, then there are several professional planners who can help you. They will let you know what all can be involved in the ceremony and reception. You then would make the decisions as to what you actually want done.
When you use a professional for your Bar Mitzvah planning, they can help you decide on a theme for the reception, as well as all the decorations. Depending on how involved you want to be, a professional actually can do the entire planning and you simply show up for the event. Many parents do not want this, but it is an option for the parents who are extremely busy. Because there is no right answer when it comes to planning, you just have to decide what is best for your specific situation.
Readers found more information by searching for:
You might also like: