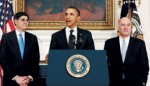 A Sabbath-observant Jew was named on Monday as President Barack Obama's chief of staff, one of the most pivotal jobs in U.S. politics.
Jacob (Jack) Lew, who last served as the White House budget director, will be replacing William Daley, who resigned just one year into the job. The change will take effect at the end of the month.
Daley's predecessor was another prominent Jewish political figure, Rahm Emanuel, who is now mayor of Chicago.
Over the past three years, Lew, whose son studied in a yeshiva in Israel, has developed a close working relationship with Israeli Ambassador to the United States Michael Oren, and has met several times with Deputy Foreign Minister Danny Ayalon and Finance Minister Yuval Steinitz.
Read More: @ haaretz.com
You might also like: