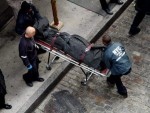 Two years of living with his disgraced father's $65 billion legacy of deception was all Mark Madoff could stomach.
The eldest son of the biggest swindler in U.S. history, unable to stand another day of his soured life, hung himself with a dog leash Saturday in his multimillion-dollar SoHo condo.
In dire early morning emails to his wife, Madoff wrote that he was ready to end a high-flying life of privilege that hit rock bottom after his father's Dec. 11, 2008, arrest – exactly two years earlier.
Read More: @ nydailynews.com
Readers found more information by searching for:
You might also like: