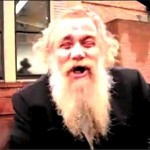 He may be funny, but talk-show host Jimmy Kimmel is no mensch.
Kimmel swiped a YouTube video of a ranting Hasidic man and spliced it into a skit to poke fun at hoops superstar LeBron James without permission, according to a suit filed yesterday in Brooklyn Supreme Court.
Dovid Sondik was featured in the YouTube video, titled the "Flying Rabbi," which shows the Borough Park man raving in Yiddish in the street.
In August, "Jimmy Kimmel Live" grabbed snippets of that video to pretend its host was getting advice from the man.
Read More: @ vosizneias.com
Readers found more information by searching for:
You might also like: