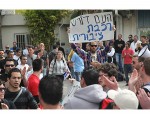 Dozens took part in a protest rally held in Jerusalem on the weekend, over Transportation Minister Yisrael Katz' persistent refusal to allow public transportation across the city on Shabbat.
As part of the protest, led by the Hiddush Movement which advocates religious freedoms and equality, and the youth forum Bama, a "stranded tent" was erected in the city's Shlomzion Hamalka Street – one of Jerusalem's busiest streets and the location of many popular restaurants and bars.
Protesters claimed that because of the street's nature as a local hotspot, public transportation to the area over the weekend is vital.
Organizers said that "nothing could describe endlessly waiting for a bus on Shabbat like a tent."
The protesters noted that service taxis were available in the none-religious areas of the city in the past. The service took great care to avoid any of the ultra-Orthodox areas of Jerusalem, so as not to infringe on their observance.
Read More: @ ynetnews.com
You might also like: