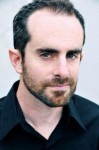 I just read Jay Michaelson's spot-on article in the Forward, "Rethinking Egalitarianism:
Are We Leveling the Playing Field Too Low?". Michaelson seems to always have his pulse on the Jewish community, and his perspective is not limited to only one denomination or to what's going on in New York City.
His article tackles several problems in synagogues today and I agree with him on most counts. I disagree, however, that egalitarianism has much to do with the malaise one finds in most non-Orthodox congregations today.
Read More: @ blog.rabbijason.com
Readers found more information by searching for:
You might also like: