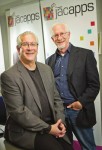 In what could have easily been mistaken for a scene from HBO's Curb Your Enthusiasm, two brothers sit at a conference room table in Southfield bouncing ideas off each other for mobile applications that could improve Jewish life.
A small collection of iPhones and iPads sits on the table, as one brother remarks that it would be cool if they created an app that would replay the rabbi's sermon just in case you dozed off in the middle. The other brother suggests they create an app that allows congregants to choose High Holiday seats by selecting the seats before the holiday and making a donation right from their cell phone. They share a brotherly laugh as they reflect on one brother's seat-saving tradition in which he drapes tallits (prayer shawls) over the rows of seats for the entire family.
With one look these brothers seem to intuit that they've found a need for another app. This look is one that has no doubt been flashed from one brother to the other more than 500 times over the past few years. When there's a need for something to be available on a mobile phone, Fred and Paul Jacobs will be there to come up with the way to do it.
Read More: @ blog.rabbijason.com
Readers found more information by searching for:
You might also like: