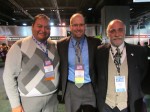 The highlight of the AIPAC Policy Conference so far has been the exhibit on Israeli technological innovation in the AIPAC Village. The bottom floor of the Washington Convention Center, called AIPAC Village, is where D.C.'s annual auto show is held so it is the perfect location to display the America-Israel Racing's NASCAR race car, an electric car from Shai Agassi's Better Place, and an Israeli tank. However, the best thing that I saw in that exhibit was the first meeting between two men.
I happened to witness the first encounter between Bernard Bar-Natan and Daniel Hernandez. Both of these men contributed to the mitzvah of pikuach nefesh — saving a life. Bar-Natan is responsible for developing the "Israeli Bandage" that was used to save Rep. Gabrielle Giffords' life after the assassination attempt that almost killed her. Daniel Hernandez had only been Rep. Giffords' intern for five days on the day of the tragic incident. Hernandez had the good sense to wrap Giffords' wounds with makeshift bandages until the paramedics arrived on the scene.
When Bernard Bar-Natan was training to become a military medic in the mid-80′s he noticed that some of the bandages they were using in the Israeli Army to stop bleeding were manufactured during World War II or even before.
Read More: @ blog.rabbijason.com
Readers found more information by searching for:
You might also like: