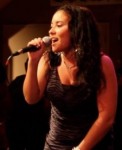 Dyanna Loeb aka Dyna*Mic is an MC, poet and arts educator who started performing with Youth Speaks in 2001. She has shared her words and music for international audiences, at venues including the San Francisco Opera House, the Nuyorican (NYC), and Project HeartBeat Jerusalem. Her poetry and songs have been featured on several releases through Youth Movement Records, where she co-founded a writing workshop for incarcerated youth in Alameda County Juvenile Hall.
She has toured the Pacific Northwest to perform for Amnesty International's Make Some Noise for Darfur benefit. Her first chapbook,  "Birkat HaGomel: A Survivor's Blessing" was published in 2010. Dyanna Loeb is currently working on her first full-length poetry collection, to be published by First Word Press in Spring 2012.
Below are two poems Loeb shared with us in honor of National Poetry Month.
Read More: @ jwa.org
You might also like: