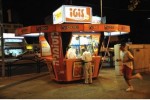 A southern Israeli father of two who donated 1800 shekels ($470) to a synagogue last Yom Kippur was repaid in spades last week with a whopping 18 million shekels ($4.7 million) for a winning "Lotto" lottery ticket, which cost him a grand total of 64 shekels ($16).
"I truly believe I won because I gave money to the synagogue on Yom Kippur," said the man, who is in his 40s. "I contributed 1,800 shekels to the synagogue and HaShem gave me back 18 million shekels."
He said he did not watch the televised program when the winning numbers were picked because it was the Sabbath, which he is observes. "I waited until the Sabbath was over before checking the results," the man said excitedly. "I began to check the numbers, and when I reached the fourth number, I realized I was going to be a winner.
Read More: @ israelnationalnews.com
You might also like: