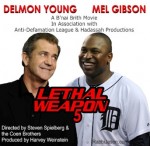 Mel Gibson's name was brought up repeatedly after the news broke about the Detroit Tigers' outfielder Delmon Young getting arrested in Manhattan for second-degree aggravated harassment and uttering an anti-Semitic slur while he was intoxicated. Young has been given a 7-game suspension by Major League Baseball and also placed indefinitely on baseball's restricted list.
More details have been released concerning the altercation. According to the NY Daily News, Delmon Young was arrested for "assaulting Jason Shank following his drunken anti-Semitic rant. According to police sources, Young began screaming the offensive remarks after a panhandler wearing a Star of David and a yarmulke approached him. Shank and three friends gave the man $20 outside the hotel, which ignited Young's racist rhetoric."
According to reports Shank, 32, and three of his friends were visiting Manhattan from Schaumberg, a Chicago suburb, for a weekend bachelor party. Delmon Young screamed "You bunch of f—— Jews!" and then got into a fight with Jason Shank on the sidewalk outside the hotel. Young was released from jail after posting $5,000 bail after his arraignment for an aggravated harassment charge that was classified as a hate crime.
Read More: @ blog.rabbijason.com
Readers found more information by searching for:
You might also like: